God, Sex and the Meaning of Life

Theology of the Body

4 DVD Set (12 lessons)

12 core lessons plus 4 guys and girls only lessons

Student Workbook (12 lessons)

216 pages, 8.5 x 11 • Bulk discounts are available

(save 20% on 20 or more through 9/12/08)

Each teen should receive his or her own Student Workbook.

Leader's Guide . .

Each facilitator should have his or her own Leader's Guide.

Parent's Guide . .

80 pages, 5.5 x 8.5 • One per family • Bulk discounts are available

TOB Teens Special Bundle

Includes: 4 DVD Set • Student Workbook • Leader's Guide Parent's Guide

While you can purchase these items from the Theology of the Body for Teens Website, you might have to pay for border costs.

I would recommend that you either go to one of the local Catholic Bookstores and ask them to order it.  We use Joseph's Inspirational as they provide books on consignment for our Workshops

Or you could order them from Amazon.ca for at least the Leader's Guide and the Student Workbook.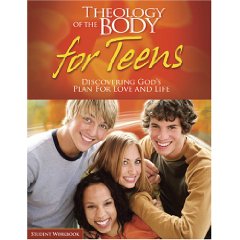 Theology of the Body for Teens Program Components 

Other Resources:

God's Plan for You: Life, Love, Marriage & Sex - Theology of the Body for Young People by David Hajduk

This is MY Body: Theology of the Body for Teens - DVD - by Fr. Tom Loya

How Far Can We Go? A Catholic Guide to Sex and Dating by Leah Perrault and Brett Salkeld

Theology of His/Her Body by Jason Evert